Rwanda: More than 3,000 cooperatives in losses

The Rwanda Cooperative Agency (RCA) has announced that 3131 cooperatives have suspended their operations in 2019/2020 in Rwanda, adding that there are unknown and known reasons for the problem but they are planning to support them.
In the annual report released by the Rwanda Cooperatives Agency which focuses on the main activities of cooperatives in Rwanda, shows that 3131 cooperatives suspended the activities in 2019/2020. According to some residents, the corona virus Pandemic and the poor management has been singled out as the causes of the loss .Bakunzi Gregg, The Director of the Red rocks Company, which works with 19 cultural tourism cooperatives witnesses the issues.
"We worked with cooperatives that taught tourists some aspects of culture and other aspects of cultural tourism but they no longer have customers" he said.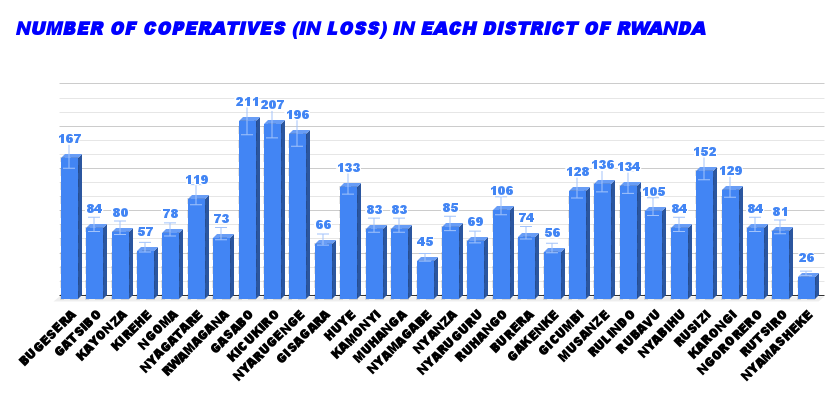 Not only Covid 19 is being singled out as the root cause of the cooperative's crackdown, but also the report shows that more than 600 million in misappropriation of funds led to the arrest of more than 490 people, according to the Cooperative Agency. Tuyizere from Musanze district said that their cooperative has been shut down due to misappropriation of property.
"Our agricultural cooperative was demolished due to unjustifiable usage of our money "she said
Although Gasabo District in Kigali City leads the list with 211 cooperatives, the Southern Province has the highest number of cooperatives because it has about 670 while the Northern Province has the lowest number of cooperatives as it has 528 cooperatives. Rwanda Cooperatives agency's Director Prof Harelimana Jean Bosco said that people should not be confused about stopping operations and demolition because their plans include helping cooperatives to stand still and continue the action, ' we advise cooperatives to change what they do in spite of stopping the activities we want to see them resuming their development activities"
In Rwanda, there are more than 5 million people living in cooperatives, 52% of them are men and 48% are women, they are in cooperatives, unions, federations and saccos, this number could increase as the RCA reports that more than 1,200 cooperatives have applied the Registration and most of them meet the requirements
Eric TWAHIRWA